9BK
This sleek and sophisticated black picture frame is accented by a gently rounded profile, delicate stepping along the inside edge and a satiny black finish. A natural wood picture frame that's both versatile and timeless.
FREE
frame assembly and hanging hardware (retainer clips, D-rings & wire)
Wood
Width: 1 3/8"
Rabbet: 7/16"
Product Image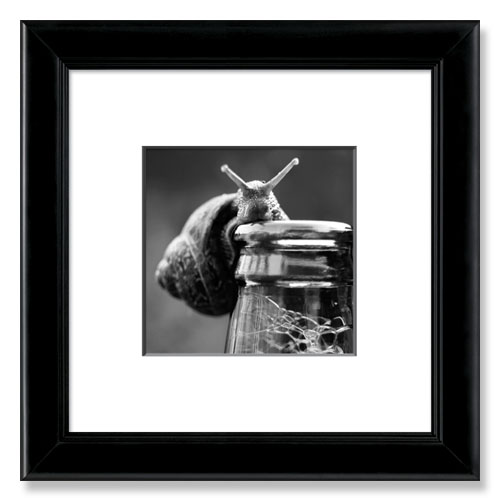 Whole Frame
Custom Size
Add prices for width + height of your frame for total price. Sizes available up to 1/8 increments.
A $3.50 cutting fee will be applied.
| Inches | Price | |
| --- | --- | --- |
| 4" | $9.30 | |
| 5" | $10.10 | |
| 6" | $10.90 | |
| 7" | $11.70 | |
| 8" | $12.50 | |
| 9" | $14.10 | |
| 10" | $14.90 | |
| 11" | $15.70 | |
| 12" | $17.30 | |
| 13" | $18.10 | |
| 14" | $18.90 | |
| 15" | $20.50 | |
| 16" | $22.10 | |
| 17" | $22.90 | |
| 18" | $23.70 | |
| 19" | $24.50 | |
| 20" | $25.30 | |
| 21" | $26.90 | |
| 22" | $27.70 | |
| 23" | $28.50 | |
| 24" | $30.10 | |
| 25" | $30.90 | |
| 26" | $32.50 | |
| 27" | $33.30 | |
| 28" | $34.90 | |
| 29" | $36.50 | |
| 30" | $38.90 | |
| 31" | $38.90 | |
| 32" | $40.50 | |
| 33" | $40.50 | |
| 34" | $42.10 | |
| 35" | $42.10 | |
| 36" | $43.70 | |
| 37" | $43.70 | |
| 38" | $45.30 | |
| 39" | $45.30 | |
| 40" | $46.90 | |
| 41" | $46.90 | |
| 42" | $47.75 | |
| 43" | $48.60 | |
| 44" | $49.45 | |
| 45" | $50.30 | |
| 46" | $51.15 | |
| 47" | $52.00 | |
| 48" | $52.85 | |
| 49" | $53.70 | |
| 50" | $54.55 | |
| 51" | $55.40 | |
| 52" | $56.25 | |
| 53" | $57.10 | |
| 54" | $57.95 | |
| 55" | $58.80 | |
| 56" | $59.65 | |
| 57" | $60.50 | |
| 58" | $61.35 | |
| 59" | $62.20 | |
| 60" | $63.05 | |
| 61" | $63.90 | |
| 62" | $64.75 | |
| 63" | $65.60 | |
| 64" | $66.45 | |
| 65" | $67.30 | |
| 66" | $68.15 | |
| 67" | $69.00 | |
| 68" | $69.85 | |
| 69" | $70.70 | |
| 70" | $71.55 | |
| 71" | $72.40 | |
| 72" | $73.25 | |
| 73" | $74.10 | |
| 74" | $74.95 | |
| 75" | $75.80 | |
| 76" | $76.65 | |
| 77" | $77.50 | |
| 78" | $78.35 | |
| 79" | $79.20 | |
| 80" | $80.05 | |
| 81" | $80.90 | |
| 82" | $81.75 | |
| 83" | $82.60 | |