This handmade picture frame has all the classic features of a Plein Air profile. A flat face creates clean lines and a rounded outer edge adds just the right amount of distinctive detail. A simple and bold genuine wood frame with a smooth, satiny black finish.
Wood
Width: 3"
Rabbet: 3/4"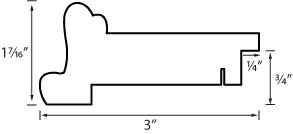 Product Image
Whole Frame
7PLT Espresso Cherry Frame
Plein Air Traditions Collection
Customer Reviews
Service (if applicable)
3.5 / 5
Chips Easily
The first time I ordered this frame, I thought I must have chipped it struggling to get it out of the bubble wrap. I didn't complain becuase I wasn't sure that it wasn't my fault. Second time I ordered it, it was chipped again. This time I was very careful when I de-mummified it, so I know it wasn't me. It seems that any tiny little ding chips the esspresso color off and the red primer shows through. I've been painting over the chips as they occur, but I'm not real happy about it.
February 13, 2017
Purchased
1 year ago
Response from pictureframes.com
Thank you for providing your feedback Wendy. That is very unfortunate that the 7PLT frame arrived chipped. Our packaging is well done to prevent the moulding from being damaged. Keep in mind we are willing to replace any merchandise that arrives in unsatisfactory condition. We will work with our carrier to make the necessary improvements. Thank you for your feedback.
Service (if applicable)
3 / 5
Chestnut plein air frame
The back was disappointing with finger marks of stain all over. It wasn't finished at all. The color was so incredibly dark we assumed they sent black instead. The color is not truly represented on the site or in the catalog.
I returned one, kept another to save time using it for an oil that can take the "almost black" color. I am still awaiting credit for the returned one and backing items. Takes a long time.
Disappointed. Lini Stevens
February 22, 2017
Purchased
1 year ago
Response from pictureframes.com
Hello Lini. We sincerely apologize that the frame appeared darker than what you were expecting. Once you provide the photographs of the frame you have, we can determine if you received the correct frame. Our goal is to capture the best images of our frames for advertising. Please take advantage of our free samples that can be sent before you place an order with us. We also apologize for the finger marks that appeared on the back of the frame. In regards to you being reimbursed, the entire refund has been submitted. Thank you for allowing us to resolve this issue with you over the phone today. Have a great day.
Service (if applicable)
4 / 5
Good frame at an attractive price. Customer service is very good.
Nice frame at a good price point. This is already in the gallery that handles my work. I frame about 30 works a year and am finding that your plein air frames are superb. I find myself using you as a source for frames more often. On this frame, it would be nice if the brown coloring were not quite so thickly opaque.
April 23, 2017
Purchased
11 months ago