This champagne picture frame is ridged and rippling with generous patina along the raised edges to create a unique presentation for your photography, charcoal drawings or certificates of achievement. Made from natural wood.
Wood
Width: 1 3/4"
Rabbet: 5/16"
WX511 Light Gold Frame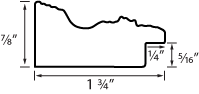 Profile Image
Whole Frame
This content will load shortly.
Questions & Answers
Browse 3 questions
Browse 3 questions and 3 answers
Are the backs flat for regular hardware or do they have a trench for a special hanging system?
BEST ANSWER:
These should come with a groove for using the provided retainer clips. You could use an alternate system, like framing points.
I want to frame an old bathroom wall mirror. My mirror measure 48 in wide by 27 in high. What size do you recommend to cover all the edges?
BEST ANSWER:
You will order the frame the same size as your mirror. The back opening of the frame will be cut to the size you specify. Additional considerations of support and hanging are needed when framing a mirror. The wire and hardware provided will not be strong enough to support the weight of a mirror. I wouldn't want it to fall or break.
How does a frame costing $16+ become $49?
BEST ANSWER:
The initial amount of the frame is set to 5"x5" which costs $16.58. The cost of the frame is calculated based on the size and additional options that you select.javascript:void(0)