Old Glory Cherry. This wood picture frame is bold and artist designed. Featuring raised American flag detail over a mahogany finish, regardless of what you frame, it will make a classic statement of patriotism.
Wood
Width: 2"
Rabbet: 3/8"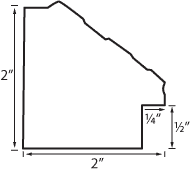 Product Image

Whole Frame
Custom Size
Add prices for width + height of your frame for total price. Sizes available up to 1/8 increments.
A $3.50 cutting fee will be applied.
| Inches | Price | |
| --- | --- | --- |
| 4" | $21.00 | |
| 5" | $22.70 | |
| 6" | $24.40 | |
| 7" | $26.10 | |
| 8" | $27.80 | |
| 8.5" | $29.50 | |
| 9" | $31.20 | |
| 10" | $32.90 | |
| 11" | $34.60 | |
| 12" | $38.00 | |
| 13" | $39.70 | |
| 14" | $41.40 | |
| 15" | $43.10 | |
| 16" | $46.50 | |
| 17" | $48.20 | |
| 18" | $49.90 | |
| 19" | $51.60 | |
| 20" | $53.30 | |
| 21" | $56.70 | |
| 22" | $58.40 | |
| 23" | $60.10 | |
| 24" | $61.80 | |
| 25" | $65.20 | |
| 26" | $68.60 | |
| 27" | $70.30 | |
| 28" | $72.00 | |
| 29" | $73.70 | |
| 30" | $75.40 | |
| 31" | $78.80 | |
| 32" | $80.50 | |
| 33" | $82.20 | |
| 34" | $83.90 | |
| 35" | $85.60 | |
| 36" | $87.30 | |
| 37" | $90.70 | |
| 38" | $92.40 | |
| 39" | $95.80 | |
| 40" | $97.50 | |
| 41" | $99.20 | |
| 42" | $100.90 | |
| 43" | $102.60 | |
| 44" | $104.30 | |
| 45" | $106.00 | |
| 46" | $107.70 | |
XAL4 Old Glory Cherry Frame
Xpressions of America Collection
Customer Reviews
Service (if applicable)
5.0 / 5
Service (if applicable)
5 / 5
Beautiful
Love this frame! It is gorgeous! Wish I had the glas for the others I purchased to finish my wall! The are awesome
June 22, 2017
Purchased
6 months ago