Bring your art to life in this sage metal picture frame. Perfect for masterpieces large or small – add a mat for even greater impact. It features a lovely profile with elegant curves to make your canvas paintings up to 3/4", drawings or photos look fantastic in your home or in a gallery.

Lightning fast shipping. Outstanding service and extraordinary value you can count on. Every day.
Metal
Width: 1 1/4"
Rabbet: 7/8"
EMP6 Sage Frame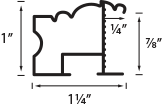 Profile Image
Whole Frame
This content will load shortly.