Ornate Picture Frames
An Affordable Luxury
You may imagine sprawling palaces or Victorian castles when you think of ornate frames, but these collections are here to prove they fit nicely in any space, from the uptown gallery to grandma's living room.
SHOP ALL ORNATE PICTURE FRAMES
Crown Your Masterpieces
The best of the best gives you elegance at its finest. These collections of ornate picture frames feature our top sellers that have been impressing customer for decades. With a variety of lavish styles in gold, silver, bronze and more, there are dozens of ornate frame choices that will crown your masterpiece in upscale style.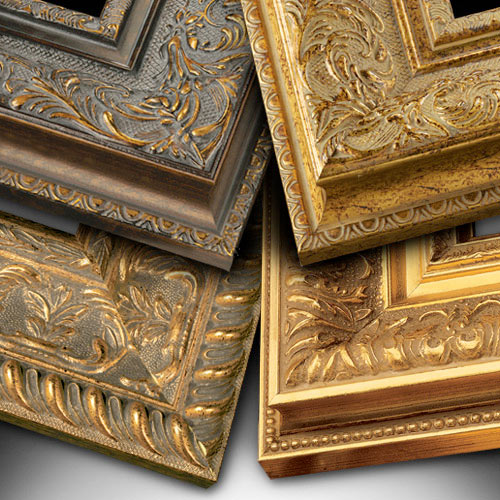 Palazzo
This gorgeous collection features beautiful patinas, intricate raised relief details and substantial profiles, to create stirring presentations.
Renoir
Inspired by one of the masters, this elegant collection of custom ornate picture frames is graced with intricate, embellished details over wide profiles.
Renaissance
At over 4" wide, this grand collection is perfect for larger pieces & canvas paintings as well as adding majesty to smaller works of art.
Slimwoods
Featuring stunning details and beautiful patinas – these frames are works of art in their own right. Narrow profiles look great with wide mats.
Cordoba
With stunning Old World ornamentation and beautiful patinas, this collection accentuates your art and photos with gold, silver, black and champagne finishes.
Vintage
This collection is gently antiqued, touched with daring details. Beautifully aged, earthy and substantial, these decorative frames create stirring presentations.
Black Tie Affair
This collection is dressed to the nines in semi-gloss, satiny finishes with delicately etched shapes and metallic highlights.
Marquis
These traditional style ornate picture frames will elevate your art and photography to museum-status. Beautiful for canvas art, photos and more!
Estate
A Painter's paradise! This exclusive collection of ornate picture frames features beautiful antiquing, warm finishes and ornate corner details.
Renaissance Canvas Floater
With simple profiles, bold proportions and striking finishes, these frames perfectly balance large-scale pieces, and draws welcome attention to your smaller pictures.
Old World Canvas Floater
This genuine wood picture frame collection features beautifully weathered finishes with an understated elegance with delicate ornate motifs.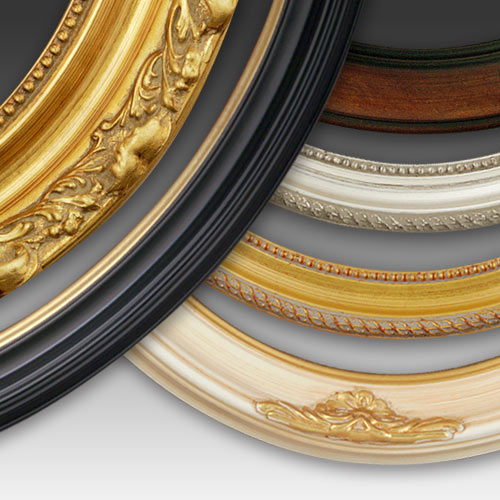 Oval Frames
Frame your oval canvases. an embroidered masterpiece or frame a vintage photograph.
Wedding Collections
Celebrate your epic love story with these designer- curated presentations that are fast, fun and fabulous.